Are you looking to join a progressive & exceptional physiotherapy team in The Hills?
We are looking for our next amazing physio to join our team, where you will be valued, respected, mentored & fostered to grow both professionally & as an individual.
Arrow Physiotherapy continues to grow & we are looking for our next physio to take us from strength-to-strength & expand on our service offering. The clinic is located in the centre of Castle Hill, walking distance from the soon-to-open Castle Hill train station & Castle Towers. We have developed a reputation of delivering professional, personalised, high-quality & evidence-based physiotherapy to those in The Hills district.
We are currently looking for a physiotherapist to join our practice in a part-time capacity (with the potential of going full-time in due course), meeting the following criteria:
A passionate & AHPRA registered physiotherapist with a minimum of working in private practice for 1 year,
Experience & interest in sports physiotherapy essential,
Experience &/or interest in pilates, group exercise physiotherapy classes or women's health physiotherapy desired, but not essential,
Ability to work Saturday (all day) essential (at least during winter sport season) as part of this role will involve working as physiotherapist to a large soccer club in The Hills district during the winter sports season,
Ability to consult with patients 1:1 in a private practice environment,
Potential to work some evenings during the week (some flexibility exists here) to deliver group exercise/physiotherapy/pilates classes (for candidates with experience/interest in pilates/group physiotherapy),
Willingness to help establish group exercise/pilates class program (for candidates with experience/interest in pilates/group physiotherapy),
An outgoing person, with good interpersonal & communication skills to interact with patients and referrers,
A person who places great emphasis on personal & professional growth,
A person who aligns well with our core values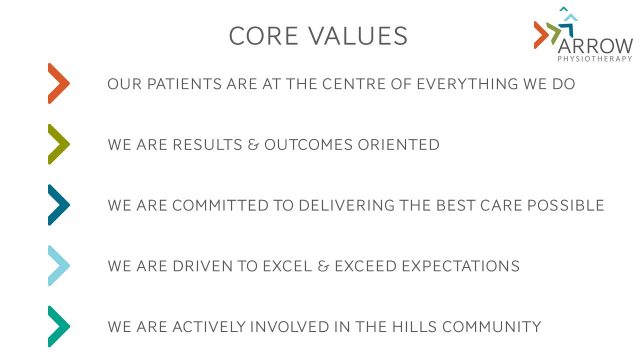 What can you expect from us:
16 – 25 hours of work a week initially (negotiable for the right person – we are somewhat flexible as to when these hours can be worked). Potential opportunity for hours to increase in time.
Start date is completely up for negotiation for the right person.
Opportunity to work with soccer club & be mentored by an APA Sports & Exercise Physiotherapist. Other sports opportunities may present in due course.
Opportunity to work with our leadership team to establish & run a group pilates/physiotherapy exercise program.
Guaranteed weekly mentoring, patient reviews & in-house professional development.
External professional development opportunities.
Remuneration commensurate with experience & to be negotiated.
To be respected as a valuable member of our team.
If you feel that this role is for you, then this is what you need to do:
Send an email to brendan@arrowphysiotherapy.com.au with the subject line "Arrow Physiotherapy's next awesome physio!" providing the following:

a copy of your resume (no more than 3 pages),
a cover letter explaining why you feel you are a good fit for the role,
advising how much notice you need to give your current employer , if taking this role would mean that you would have to leave your current job.
** There is no deadline for applications for this position. We are looking for the right person to fill the role and will keep the position open until we find this person **